Meet Our Masters
All of our barbers are professionally trained and deemed masters by our highest quality standards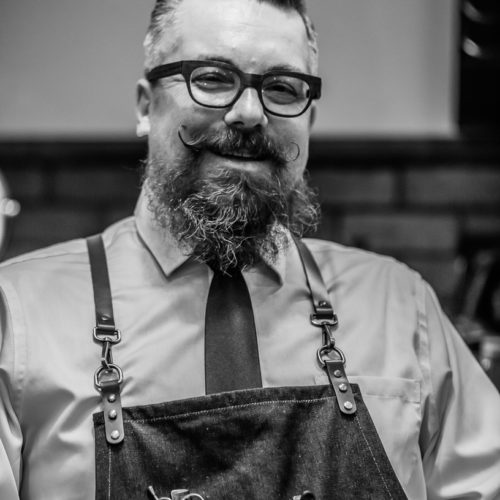 Paul Ellerkamp
This master Barber has been cutting hair for more years than we can count. Paul is the man behind the beard that you can trust to give you a grade A haircut or shave.
Jacob Ellerkamp
Jacob is a second generation barber that brings a lot to offer. Whether it's fades, designs, classic cuts, ethnic hair or something experimental he's got you covered. Jacob likes to make music, bike, and watch movies in his free time. When he's not doing that you can find him spending time with his wife and dog.
Michael Hill
Michael is a master barber coming from Montana. His love for meeting new people led him to coming to Dickinson to join the DePorres team. With a love of music, books, the mountains, and animals Michael has quite the variety of interests.
Luke Janikowski
My name is Luke Janikowski. I'm a Southwestern North Dakota native. I'm a musican turned barber who enjoys watching sports, video games, playing guitar, and time with friends and family. My goal in life is to convince Paul to start a polka band.
Denise Metz
Master cosmetologist since 1995 and born and raised in the Dickinson area and now lives in Dickinson with Dave Dworshak and there two daughters Daevan and Michaeyla and the dog Bear. Loves crafts and leather working
Rosa Torres Trueba
Hello my name is Rosa. I started cutting hair when I was 10 years old by cutting my brother's hair. I moved to the United States in 1962 when I was 15 but moved back to Mexico in 1963 where I became a telephone operator. I work as an operator for 24 years where I worked my way up to be come an executive. In 1986 I then moved back to the United States to New York City. Up to this point I had be cutting hair in spare time and had decided that was what I wanted to do with the rest of my life. So at
50 years old I went to barber school. Since then I have owned 2 Salons and for 14 years cut hair for people who had alzheimer's. In 2014 I moved to North Dakota where I have continued to cut hair. I've have 2 kids, 3 grand kids, and 2 Greats.